I hope everyone is enjoying their summer and finding time to ride. The weather has been beautiful and I've noticed lots of people in Springville and Mapleton riding around town on a wide assortment of bikes–e-bikes, road bikes, mountain bikes, kids' bikes, bikes with trailers, etc. The more of us there are, the safer we will all be, so keep riding!
This month's meeting is going to be held on July 30 at 6:30pm. We will meet as a group at the Hobble Creek Trail trailhead park at the intersection of 1700E and Canyon Road. This is a small green space with parking for both cars and bikes, picnic tables, and a bicycle maintenance station. We will then be taken on a guided tour by one of our members, Kurtt Boucher, who a few days ago gave the Springville city council a presentation of his plan to connect the eastside Hobble Creek Trail (which ends at the trailhead where we are meeting) to the westside Hobble Creek Trail. We'll have a chance to ride his proposed route and provide feedback on how it might be improved. Don't miss this chance to meet new people and ride through the city as a group!
Next, I'd like to give a big shout out to Springville resident and hopefully soon-to-be member of the Hobble Creek Bicycle Association, Griffin Park. Griffin is the owner/operator of Jolly Circle, a mobile bicycle-repair company. He is an expert bike mechanic who can fix your bikes at his place or yours, and he charges very reasonable rates. Yesterday and today he fixed up two of my bikes–a cruiser and a mountain bike–and I'm very satisfied with the whole experience.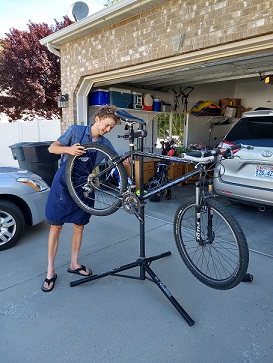 Last thought of the day: I just read a nice summary of arguments made by people who oppose bicycle infrastructure and rebuttals to those arguments. The immediate context for the article is the UK, but I think the principles are universal. Check it out and see what you think!